SPOTLIGHT - Harvest From The Sea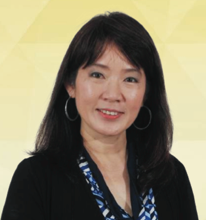 Prof. Dato' Dr. Aileen has dedicated her work to molluscs for the past 30 years. She has transferred her knowledge not only through supervising and guiding students, but also conducting and converting her research into sustainable use. She is now guiding the local rural communities in culturing molluscs as an alternative and sustainable income. Her work on oyster had gained vast recognition not only in Malaysia but internationally. Her Oyster work had been featured in the website of World Oyster society (www.worldoyster.org) and she had guided a private company in setting up a high-tech commercial hatchery, which was awarded " The First Commercial Oyster Hatcheryin Malaysia" by Malaysia Book of Records in year 2014.
Aileen started her research on molluscs, in particular oysters, at all aspects covering the life cycle , growth, physiology and behaviour of oysters. Along the process of discovery and in-depth studies of the oysters, she tried to find the optimum conditions for better growth and survival , leading to mass production of oysters seeds. Following to that, attention was focused on improving the meat, texture and quality of local oysters, with the aim of positioning malaysian local oysters in comparative to imported oyters from Canada, Australia, USA, New Zealand, Japan and China. This was successfully done where now our local oysters are as good as the imported ones if not better. Our home-breed oysters are fresh, sweet and succulent! Modern hatchery techniques, larval growth optimization and 30 years of Research and Development delivers market size oysters in 10-20 monts. All the processes involved with the culture and growth of the oysters are strictly natural, no hazardous chemicals were used, and no transgenic manipulation were done. Health food we think should be healthy.
Most of Aileen's research is community-centric work. Over the years, Aileen has worked closely with communities on sharing her knowledge on growing oyters as an alternative livelihood; and directing a steady stream of undergraduate and postgraduate students to all these sites for research - a process that benefits all parties. Universiti sains Malaysia has supported Aileen for the past 30 Years working on molluscs, in particular oysters and the research has now benefitted many especially the coastal communities. Aileen has simplified the high technology approach in oysters seed production in the hatchery to a simple and practical way of culturing oysters to the communities. Aileen has developed a commercial-scale sustainable oyster farming system that offer economic returns for the local communities by capturing the domestic and foreign market with the training and guidance on the basic method of culturing oysters, inclusive of setting-up their own floating cages, the local communities are now able to have their own " business " by producing continuous supply of oysters. The oyster culture project has paved the way to improve the livingh standards of the local communities.
The benefits of oyster farming to the rural communities have been undeniable, as it is a product known as " low technology with high touch", as it is a low-risk, halal and low maintenance business, and most importantly it is a green aquaculture where no additional food or antibiotics are required, unlike in fish or prawn aquaculture. Oyster framing is a sustainable activity in terms of economy, environment and socially. She has introduced oyter farming in Penang, Kedah, Perak, Selangor, Johor and Sabah. Aileen's vision is. Hopefully before she retires, she wishes Malaysia can be one of the larger oyster producer in the world. The other major achievementof Aileen's research-community work is obtaining a grant from United Nation Development Programme (UNDP) to work with the womenfolk in the isolatedislands in Johor through the giant clam conservation programme. Giant clam is an endarngered species in Mlaysian Waters and we are losing our giant clams due to environmental and anthropogenic factors. She has successfully restocked the Johor islands with 900 baby giant clams in 1999. Dealing with the temptation to harvest and eat fresh giant clams was always a challenge among the island folks. Aileen and her team tried their best to educate the islanders that long term benefits of preserving the giant clam population. " We always tried to implant the thinking of 'clams in the kuali (wok) is worth RM20 but clams in the coral garden is worthn RM2,000 per month", she says.
She has also assisted a private research centre in setting up a ahtchery, which was awarded " The First Marine Ecology Centre to produce Seven Species of Giant Clams" by malaysian Book of Records in year 2010, where baby giant clams produced by this centre have been restocked in coral Reefs of Sabah.