The Memorandum of Agreement (MoA) Signing Ceremony between Universiti Sains Malaysia (USM) & TEXCHEM FOOD Sdn. Bhd.
4th OCTOBER 2013, 11.30 A.M., CHANCELLORY CONFERENCE ROOM,
LEVEL 6, CHANCELLORY BUILDING, USM


The MOA signing ceremony between Universiti Sains Malaysia (USM) and Texchem Food Sdn Bhd for the collaboration and partnership in continuing the mudcrab research which started in 2011 that will benefit both USM and Texchem Food Sdn Bhd.

CEMACS, USM has made headways in the areas of aquaculture research in Malaysia. CEMACS, USM has proven, after 22 years of research, that it is one of the country's best aquaculture research centres, with multidisciplinary experts and state-of-the art technology in aquaculture and marine science research, all under one roof.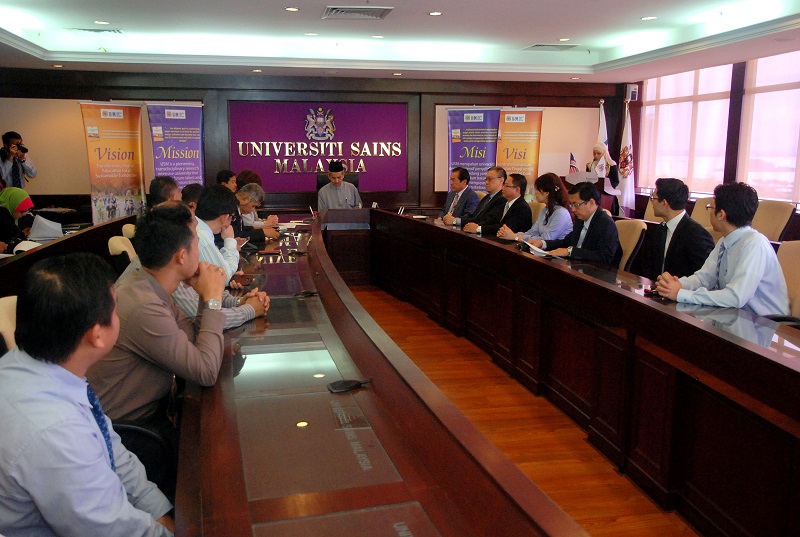 The first phase focused on setting up the physical structure of the hatchery to facilitate breeding of crabs. This pilot crab hatchery is situated at the CEMACS in Teluk Bahang. This present phase will look into increasing the survival and production of crablets, using advanced nutritional and culture techniques. Under the terms of collaboration with USM, Texchem provides a RM100,000 research grant to USM annually. The group is also spending RM300,000 a year on the project.
The major objectives of this collaboration are to:-
Develop a hatchery technique that will allow the production of a profitable percentage of crab seed

Discover important biological knowledge on the physiology of the crab

Develop HR capacity in the field of aquaculture and laboratory analysis.
Both parties believe in the importance of food security. This birth project was developed because Texchem believes in farming as a reliable method for food production. USM has always emphasized on projects that ensures food security for the bottom billions. Both parties believe that food production must be done in a sustainable process. It is interesting to note that Texchem already has a crablet harvesting business to sustain their sales. However, the vision of Texchem is to ensure that production of crab does not negatively impact the sustainability of wild crab populations. USM is very pleased to lend its expertise to collaborate with a highly successful company that also believes in safeguarding the environment for the next generation. This partnership is therefore ideal to the university's vision of `Transforming Higher Education for A Sustainable Tomorrow'.
In terms of academic publication, USM is the leading university in South East Asia in terms of number of scientific articles and citations. The university has started researching on aquaculture of freshwater fishes, since early 1980's. From these efforts, the university has contributed strongly to the aquaculture of catfish, haruan, tilapia and oyster in this region. At present, the university is venturing into the aquaculture of more challenging species, including crabs and sea-cucumber research.