Nur Aqilah Muhamad Darif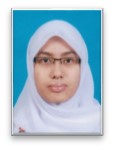 Science Officer

BASc. (Hons) (Environmental Biology), Universiti Sains Malaysia
MSc. (Marine Sciences), Universiti Sains Malaysia

+604-885 2750; Alamat emel ini dilindungi dari Spambot. Anda perlu hidupkan JavaScript untuk melihatnya.

Marine Sciences


Research Profile

Microalgal photophysiology


Current Research


The use of water and Pocket-Pulse amplitude Modulation in Investigationg Photophysiology and Nutrient Limitations in Microalgae.
Selected Publications
Darif, A., Salleh, S., Mohammad, M., Javeed, A., & Samad, S. (2018). Effect of Silica Concentrations on the Growth Rate and Photosynthesis of Tropical Diatom Actinocyclus octonarius. Proceeding of the 11th IMT-GT UNINET Conference 2018, Penang, Malaysia: School of Biological Sciences, Universiti Sains Malaysia, 11-12 December 2018
Darif, A., Samad, S., Salleh, S., Mohammad, M., Nordin, A., Javeed, A., Glory, M., & Zainudin, H. (2016). The abundance and spatial distribution of soft sediment communities in Tanjung Bungah, Malaysia: A preliminary study. Tropical Life Sciences Research, 27(Supp. 1): 71–77. doi: 10.21315/ tlsr2016.27.3.10.
Javeed, A., Salleh, S., Darif, A., & Mohammad, M. (2018). Preliminary observation of tropical diatom Thalassiosira spp. from Teluk Bahang, Penang. Scripta Biologica, 5(1), 7-11.
Samad, S., Mohammad, M., Salleh, S., & Darif, A. (2018). A checklist of free-living marine nematodes at different ecosystem in Northern Straits of Malacca, Malaysia. Scripta Biologica, 5(1), 1-5