THE STORY OF A MAN'S 33-YEAR 'BEHIND THE SCENE' JOURNEY IN CEMACS
TELUK BAHANG, 17 January 2020 – Being 58 this year, Rosly bin Basarudin proudly looked back on his well-spent journey with Universiti Sains Malaysia (USM). Memories of him commencing his career as a technician at USM at the tender age of 24 are deeply-etched in his mind and which are truly worth sharing!
Elated with the job offer back then, Rosly had no clue that he would have to work in a secluded centre on a quiet stretch of a beautiful sandy beach. Little did he know that there were only two ways to reach his workplace, either by boat or on foot through the hilly trail.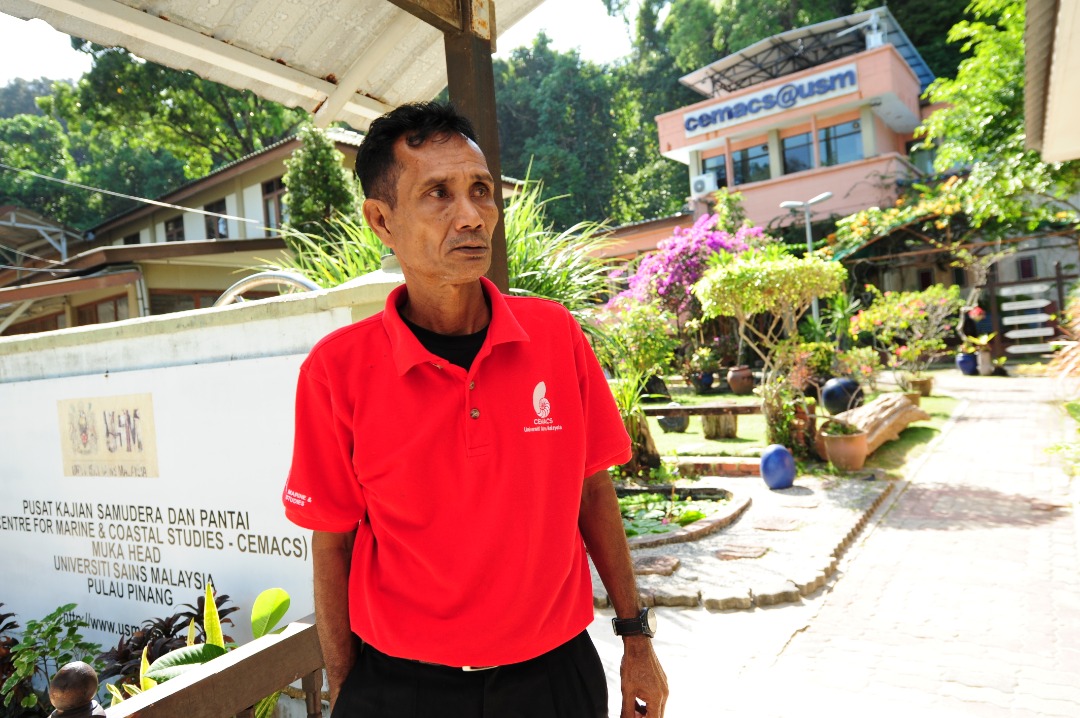 When Rosly first set foot at the USM Centre for Marine and Coastal Studies (CEMACS) on 15th of July 1986, he was less than comfortable seeing a man with afro hair and a cold-looking Indian guard fronting the vicinity of CEMACS. The thought of him leaving this place once overwhelmed him.
"A senior staff from CEMACS approached and briefed me about CEMACS. The staff even reminded me to adapt myself, to mingle around and to work wholeheartedly. The thought of leaving this place has never returned since then," giggled Rosly recalling that moment.
THE PIVOTAL MULTITASKING ROLES AT CEMACS
Also fondly known as Cik Li, Rosly's job scopes in CEMACS include monitoring all the technical aspects in CEMACS, while ensuring sufficient electrical supply and caring for the landscape. Besides, Rosly also aided in the surveillance efforts at the hostels, laboratories and administrative buildings.
Now, having the position of an Engineer Assistant (JA 29), Rosly's routine also involves ensuring a continuous power supply in CEMACS, as all the marine researches run there are costly and have been developed for years.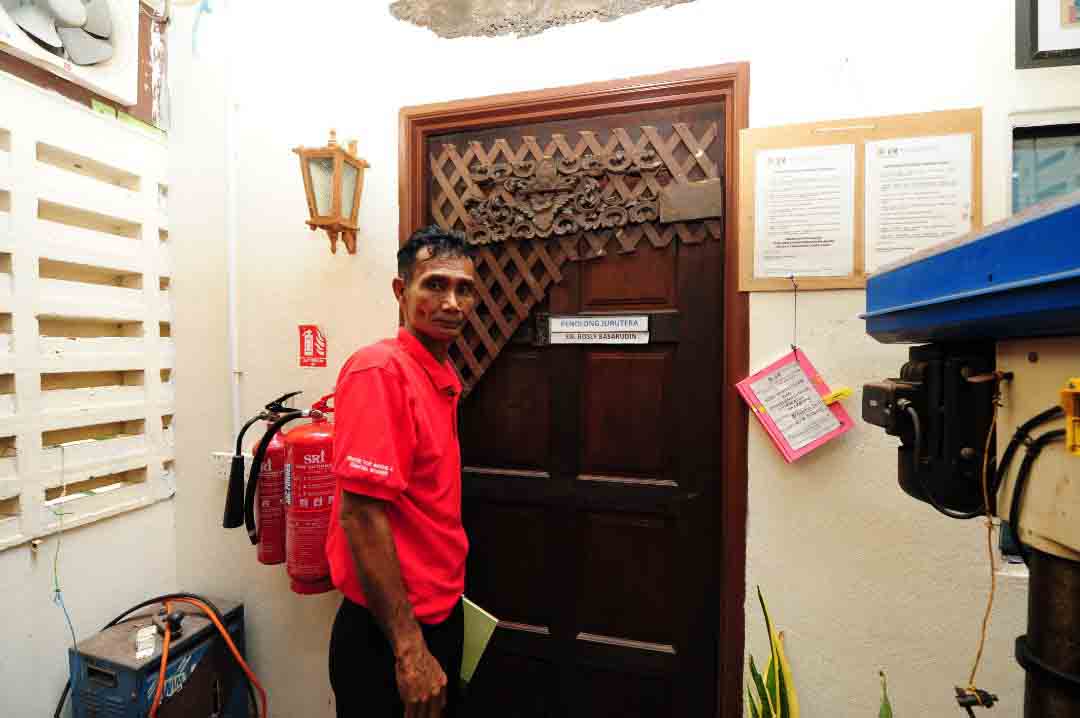 Despite not being involved in any research, Rosly knows the importance of knowledge development and he is committed in ensuring everything in CEMACS is not destroyed due to technical factors.
"A few researches would have been destroyed completely even if the power supply is halted for a few minutes. Thus, I realize that my work here should not be taken lightly. This is the thing I dreaded most in CEMACS."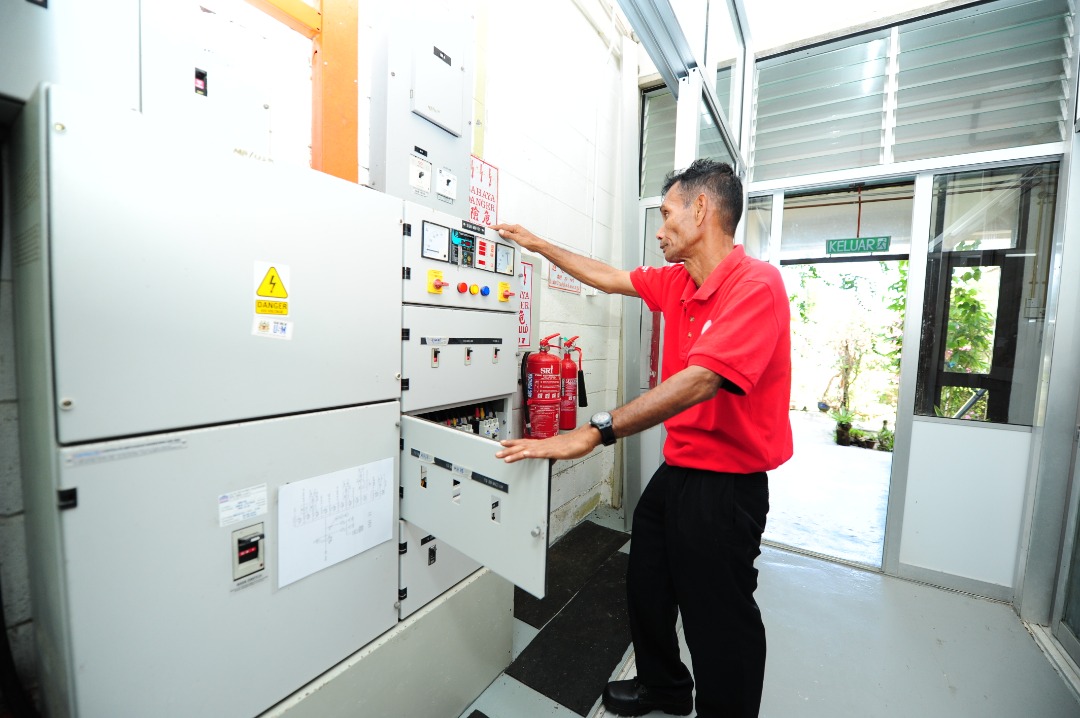 "If a technical issue occurs at midnight, it would not be easy to reach here on time. There's once when my friends and I came back to CEMACS through the jungle tracks, with only a torch to resolve a technical issue. The boat couldn't send us. These are some experiences that I would never forget," shared Rosly about his bittersweet moments spent working with the university.
EXPERIENCES WORTH REMEMBERING!
One of the most unforgettable experiences shared by Rosly was having to assist a national meeting then, the 'Mesyuarat Majlis Biodiversiti dan Bioteknologi Negara 2004', chaired by the then Prime Minister, Tun Abdullah Ahmad Badawi and attended by national leaders at CEMACS.
An event once he thought to be impossible was made to happen successfully with the guidance of USM top management leaders and allies in CEMACS.
Furthermore, Rosly found indescribable satisfaction for being given opportunities to travel around and showcase the researches done at CEMACS in various exhibitions. Some of the researches put up in the exhibitions he had attended even bagged home prizes! With the chances to tag along on field trips to Malaysian islands, Rosly has learnt to appreciate our natural treasures.
THE ULTIMATE SECRET BEHIND THE LONG-SERVING JOURNEY
"The only secret is to ensure that I am always highly motivated for my work, to adapt myself to my surroundings and to treat my colleagues as family."
"Working happily is a definite goal we are moving towards. Adaptability to the surroundings is crucial to turn every obstacle into a chance to achieve success."
A man happily married to the love of his life, Rokiah Hashim, 48 and a father of five bright children, Rosly still has three more years to continue serving for CEMACS before he officially retires in 2022. Before the interview session ended, Rosly openly expressed his love for CEMACS.
"I am sincerely proud to be part of CEMACS. This place has taught me various life lessons and experiences that no money can buy. I wish the best for CEMACS in the future," uttered Rosly who also expressed the ease of working with his colleagues in CEMACS, especially the Director of CEMACS, Professor Dato' Dr. Aileen Tan Shau Hwai who is a very committed leader.
Text: Angel Goh Wei Ling/Editing: Mazlan Hanafi Basharudin
Source: USM News Portal