Home
Welcome to CEMACS
The Centre for Marine and Coastal Studies (CEMACS) was established in August 1991 to undertake research and post-graduate training in Marine Science and Coastal Ecosystems.  It provides the institutional mechanism for mobilising and integrating the University's considerable expertise and resources in marine science.  The main objective of CEMACS is to enhance the capability of conducting integrated inter-and multi-disciplinary studies leading towards solving problems related to marine and coastal ecosystems.
CEMACS is located at Teluk Aling the northwest coast of Penang Island in the Penang National Park.  The centre is served by a number of core academics working in collaboration with research associates identified from other teaching schools as well as from outside the University.  The centre's international associates include those from Canada, Australia, USA, UK, Japan, Cambodia, Indonesia, India, Iran, Australia, China, Singapore, Vietnam and Denmark.  Associates of CEMACS are provided with the direct access to the centre's considerable research and training facilities.  Presently, research and training conducted at the centre is focused on biodiversity and conservation of marine ecosystems, coastal forest ecosystems, mariculture and marine mammal ecology (dugong and dolphin).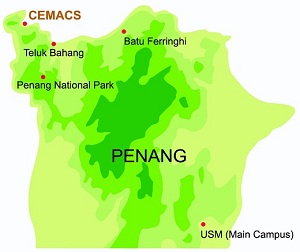 CEMACS location map
or Google Map
Search
Visitors
Today
This Week
This Month
All days
---
Your IP: 157.55.39.97
Server Time: 2014-11-24 21:24:26
Site Last Modified
This site was last modified on: Thursday 20 November 2014, 11:08:05.